What started as a video on TikTok, now has gone viral and brought national attention to Saint Leo University and its commitment to employees and our core values. Ashley Webster, an assistant Saint Leo University men's basketball coach and mother of baby Aiden, recently created a TikTik video about the support she has received as a mother and coach.
The adorable video shows Aiden interacting with players, students, head coach Lance Randall, and others, and notes that when Webster was offered her dream job of coaching, she was worried about accepting the position as she needed to care for her newborn son. Coach Randall's response: Bring him to work, too!
Webster's video captured the attention of platforms such as Barstool Sports, Upworthy, and other big players in social media, and has garnered thousands of views.  Next up, it was TV coverage. On Saturday, July 2, The Today Show shared the video during its "Morning Boost" segment.
Good Morning, America/ABC News digital reporter Katie Kindelan interviewed Webster and Randall about how Aiden came to be a part of Saint Leo University and the men's basketball program.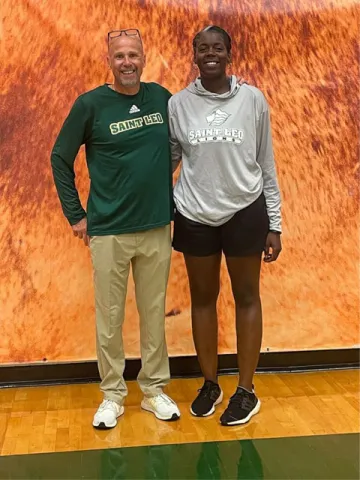 Webster told Kindelan she received the offer of her dream job of coaching a men's college basketball team, but she was pregnant at the time. Coach Randall knew he wanted to hire Webster for her skills, knowledge, and ability, and made sure she would have the opportunity to coach.
Aiden was born in February 2021, and Webster began coaching at Saint Leo three months later, bringing the baby with her to the welcoming environment of Saint Leo and its men's basketball program.
Randall told Good Morning, America, "We have four kids ourselves so my kids have grown up in the gym," said Randall, referring to himself and his wife, Pam. "We're very much a family and faith-based program and school [Saint Leo University] so for us, just having each other, that's the greatest value and asset." [photo of Coach Lance Randall and Assistant Coach Ashley Webster]
Webster noted the support system she and Aiden found at the university, telling ABC, "Outside of my family and friends. it's just me and Aiden, so to have all those brothers and male role models for Aiden was amazing," she said, adding that in basketball, family is on and off the court. I'm blessed that it worked out that way, and I'm forever grateful."
Read article from Good Morning, America/ABC News.