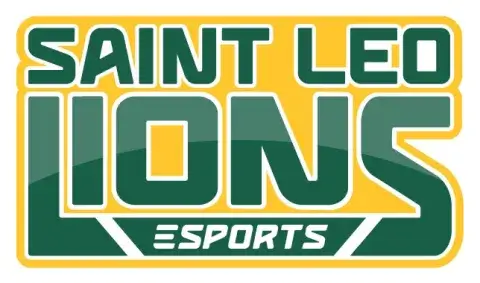 Overview
Saint Leo University Esports is a school-sponsored competitive team in League of Legends, Valorant, Overwatch, FIFA, Super Smash Brothers. APEX Legends, Fortnite, Rocket League, and Dragon Ball Z. The varsity and junior varsity teams compete with other local, regional, and national universities throughout the year.
Esports provides players with individual and team coaching, competition gear, and strong networking opportunities within the video game industry. Saint Leo University offers an Esports Arena, where students compete, broadcast, and watch their favorite Esports games. Esports also provides students with career building workshops that improve core competencies for employment opportunities.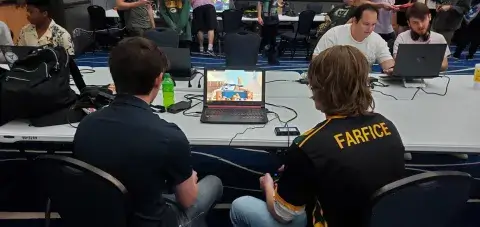 Finally, the Esports program offers volunteer positions for all students. Over the years, students served as business managers, marketing coordinators, graphic designers, social media managers, production team members, and video content editors.
Community
Esports provides a perfect opportunity for our students to build community and friendships, play, compete, and learn. The arena and production studio are where our students build a sense of belonging and identity. During the 2022 - 2023 academic year, 49 students actively participated in the Fall and 44 in the Spring semester. In addition to the teams, the Gaming Club provided a variety of opportunities for students to play games in a casual and inclusive environment.  
Careers 
Esports helps students develop digital literacy, pursue STEM careers, gain valuable knowledge from industry leaders, and find career opportunities. Each year, Esports partners with Career Services to host the a "New Game Plus Week" which featured a keynote speaker, networking workshop, gaming tournament, and Gaming and Media Career Fair.  
Competition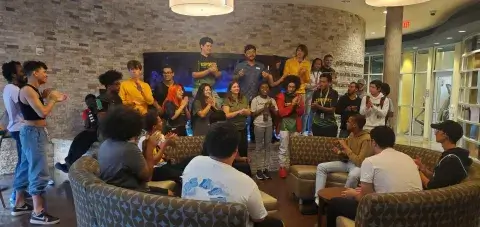 Esports hosts weekly practices, provides video reviews, and streams gaming footage on Twitch and YouTube. In 2022 – 2023, our teams competed in 19 tournaments against over 250 universities placing in the top 10 thirteen times.  
Creativity 
Whether it's for Twitch, YouTube, or other social media venues, Esports develops content that people want to watch. Our players and volunteers guide projects from production through content management. This experience helps our students shape their future, portfolio, and resume.  
Follow Us 
Contact Us 
Esports   
33701 County Road 52 
Apartment 5, 1st Floor Lobby  
Saint Leo, FL 33574 
352-588-8856 
esports@saintleo.edu