Dual Enrollment Program Saves Time & Money
High School Dual Enrollment
Saint Leo University is committed to offering convenient and flexible programs to meet all of our students' unique needs, including those in high school. Through the Dual Enrollment Program, qualified students are able to start and accelerate their college education, while still enrolled in high school. Courses will be available through our online platform and will count as high school credit and towards a university degree.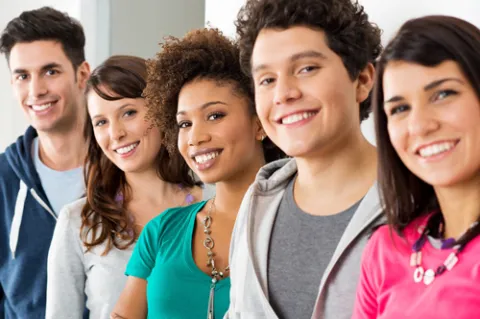 Eligibility Requirements
Students interested in dual enrollment prior to high school graduation must meet the following academic qualifications:
Be enrolled as a junior or senior in a course of study which will fulfill requirements for high school graduation in a Florida public, private, or home school
Have at least a 3.3 cumulative unweighted GPA
Why Saint Leo?
Our dual enrollment student advisors work one on one with students, parents and school guidance counselors to ensure students stay on track in their courses. As a dual enrolled student you will have access to the university's resources, facilities, and services, including tutoring. Get a head start on your college degree today!
 
Frequently Asked Questions
If you are a public school student participating through your county you will not need to purchase textbooks.
If you are a private school student, you will be responsible for your own textbooks costs.
Yes, the grade(s) received will go on both your high school and college transcripts, and will impact both your high school and college GPA's.
Students may not take more than 3 credit hours per semester (1 semester = 8 weeks).
No, Dual Enrollment students are considered non-degree seeking students for the semester in which they are enrolled.
No, dual enrollment courses are the same courses offered to our undergraduate students.
Public and Private School – registration is coordinated through your high school guidance counselor.
Home School – registration is coordinated directly with one of our dual enrollment student advisors.
Students are required to take Math and English assessment tests before enrolling in university courses. The assessment tests are free and helps us determine the best course placement for your success.
Office of Admissions
Contact Information

Office of Admissions
Saint Leo University
33701 State Road 52
PO Box 6665, MC 2008
Saint Leo, FL 33574

Campus Admissions

Phone: (352) 588-8283
Toll-Free: (800) 334-5532
Fax: (352) 588-8257
Email: admissions@saintleo.edu

WorldWide Admissions

Toll-Free: (888) 875-8265
Fax: (888) 743-8116 

Office Hours and Staff

Friendly staff are available to help you navigate the admissions process and answer your questions.

Admissions Office Hours:
Monday-Friday: 8 a.m. – 5 p.m.
Select Saturdays: 9 a.m. – 2 p.m.
Closed Sundays