It was a day of cheers, welcomes, and a few tears as Saint Leo University greeted students and their families on the first of two move-in days for undergraduates on Thursday, August 24. 
More than 800 new and transfer students are registered and moving in to residence halls, and classes begin on Monday, August 28, at the campus in Pasco County as well as online and at the university's six education centers in Florida and Savannah, GA. 
New student Arabella Parker expressed the thoughts of many of the students as they arrived at their new home-away-from-home.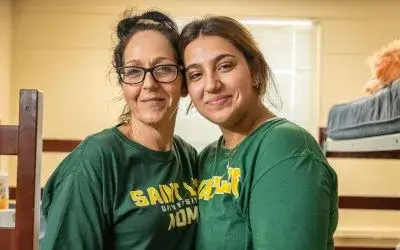 "I'm excited, I'm nervous, I've never been away from home," said the nursing major nursing major from Lakeland, FL. "But I'm excited for new adventures."
As for her mom, Tracey Parker, there were tears. "I waited to cry until today," she said as she helped her daughter unpack. 
Even though the goodbye is hard, "It's wonderful," Tracey Parker said of this next step in Arabella's life. "She is truly an amazing young woman, and I hope I've instilled in her a lot to make her successful and independent."
The university was founded by Benedictine monks, priests, and sisters in 1889, and its core values are based on the Rule of St. Benedict. Hospitality is one of the highest values of the Benedictines, and St. Benedict wrote: "Let all guests who arrive be received as Christ." 
In greeting everyone, Dr. Ed Dadez, university president, said, "Saint Leo University lives our Benedictine tradition of radical hospitality. All new students, staff, and faculty are welcomed with open arms. We strive to ensure that everyone is fully acclimated into a living-learning community."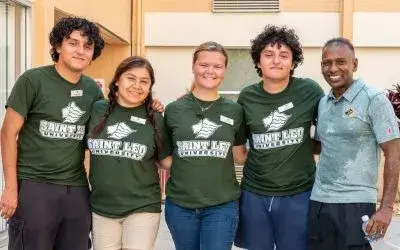 Faculty, staff, and students started that welcome process by helping the new residential students by carrying their belongings from cars — and even some moving vans — to the residence halls. Families and students drove in to the parking garage to check in and receive room keys and welcome packages. A Family Respite Area was set up in the Student Activities Building so that everyone could take break from unpacking and enjoy a cold bottle of water and some snacks. 
One family was celebrating Madison Sanchez's arrival at the university. Sanchez, of Deltona, FL, had a little bit of heavenly support on her journey to Saint Leo.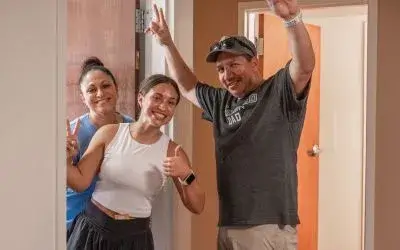 "I prayed a lot for her to come here, and St. Leo listened," said Ana Chavarry, Madison's grandmother. 
Sanchez, who is majoring in management, found Saint Leo to be an easy option for her. "It just felt very welcoming," she said of her visit to campus before enrolling. 
While Riley Robinson was attending University Ministry's Freshmen Retreat, her family including mom, Jen; dad, Brian; and sister, Daisy; helped her roommate, Raelin Seeley, move in to their residence hall. 
"We're really excited about her being here," Jen Robinson, of New Hampshire, said of her daughter, Riley. "At first she didn't want to attend a faith-based university, but she visited and loved it. She loved the core values — and she wanted to be away from the snow."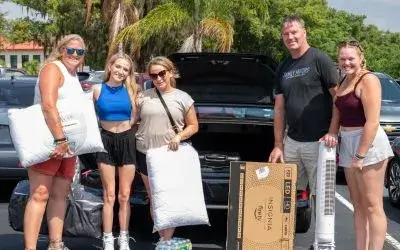 Getting out of the cold also was appealing to new student A.J. Salvadori, who comes to Saint Leo from Maine. In addition, the Undergraduate Criminal Justice Program appealed to him, he said.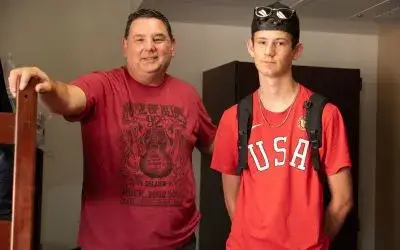 Salvadori will join the university's ice hockey club team, using some of the playing skills he brings with him from the north. 
And joining in the many activities offered by the university is ideal, according to Khristian Parrish, Student Government Union (SGU) president. "As cheesy as it sounds, getting involved in anything on campus is how you find your community and friends," Parrish said. "Saint Leo is special because of our tightknit community and our dedication to constantly improve." 
Dr. Anthony DeSantis, associate vice president of Student Affairs, also encouraged participation from Day One. "Thoroughly engage themselves in the campus community," DeSantis advised new students. "Utilize the many resources across the campus, including tutoring, the Wellness Center, Counseling Services, and more." 
Many of the opportunities begin at the university's move-in days, and continue through Week of Welcome, August 28 – September 2, with events such as First Day of School Pictures; Puppy Play; Rec the Night; We've Got Your Six; Popsicle® Pursuit; and many more.
The full schedule may be found here.