ST. LEO, FL – They waited for this moment for years. Today, Saturday, May 14, more than 1,200 students earned their degrees from Saint Leo University. They proudly walked across the stage at the Florida State Fairgrounds in Tampa during two commencement ceremonies in which doctoral, master's, bachelor's, and associate degrees were awarded.
The ceremonies celebrated students who studied at the main campus north of Tampa in St. Leo, FL; at its Florida education centers in Tampa, Ocala, Lake City, Jacksonville, Key West, and at the East Pasco Education Center locations in Pasco and Hernando counties; at MacDill Air Force Base (Tampa); at Naval Station Mayport (Jacksonville); and online throughout the world.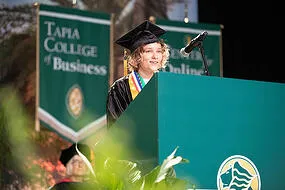 These graduates not only successfully completed their degree programs, but they also did so through a global health crisis, as was noted by the Class of 2022 Valedictorian, Kylie Culver.
"The Class of 2022 has been through a lot," said Culver, of Tampa. "Not only did we have the regular challenges that comes with being college students—making sure we got good grades, making friends, managing our time, and social lives, but we also have the additional challenge of living through a pandemic." 
The valedictorian said a big reason she chose to attend Saint Leo was the community. "Our connection to our classmates, professors, and the staff at Saint Leo is something that we will have and cherish for the rest of our lives," Culver said. She said she was worried when she first started her college careers. "The first professors I met at Saint Leo immediately assuaged my fears, and I soon found that Saint Leo was warm, friendly, and like another home."
Culver was selected as valedictorian as the top academic performed at the university. A history major with two minors in Spanish and world politics, she will continue her studies in the University of South Florida's Florida Studies Program, in which she is a finalist for a fellowship that would include a large stipend, tuition remission, and paid study-abroad opportunities for two summers in a number of different countries. "History can be helpful, freeing, and enlightening as long as we aren't afraid to accept the facts, but instead, use its lessons to create a better world today."
Salutatorian for the Class of 2022 was David Pacheco of Brentwood, NY, who graduated with a Bachelor of Science degree in computer science. He was the recipient of the Clara McDonald Olson Scholastic Excellence Award and the prestigious EMACS S-STEM scholarship awarded by the National Science Foundation.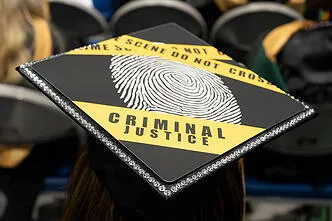 During the morning ceremony, more than 600 graduates received their degrees, including undergraduate students from University Campus, Doctor of Business Administration students, students in the Master of Business Administration and Master of Accounting programs, and students in the master's in creative writing, psychology, theology, computer science, and cybersecurity degree programs.
Time for Reflection
"Today, I am going to ask you to think," said University President Jeffrey D. Senese, addressing the graduates. "I know this is familiar ground as your faculty challenged you to think, and you are more than capable."
Senese told the graduates to "think big."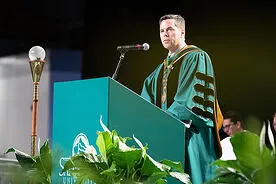 "Think about the expanse of possibilities in front of you today," Senese said. "There is no limit ahead of you today, tomorrow, or the day after! You are a Saint Leo University graduate . . . you can do all you desire."
The new Saint Leo graduates also should "think differently," the university president said. "You have learned how to learn," Senese said. "You have been 'instructed.' You have paid attention. Now it is time to make your own decisions. Now it is time for you to lead your own 
professional path in life. Now is the time to keep listening and paying attention, and to use that to make a difference as you see fit."
And lastly, Senese told those assembled to think about others. "Think about what is possible and do it," he advised. "Think about the help you were provided and do the same. Think about paying it forward when you can."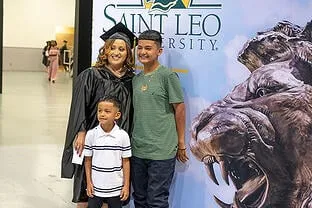 What the Future Holds
Some of Saint Leo's bachelor's degree recipients already are joining businesses, organizations, and schools as employees, and in some cases, they found these positions through internships they completed while at Saint Leo. For many other students, the next step is pursuing graduate degrees, from law, to medicine, to theology, to business.
Some of the new graduates poised to make exciting career steps include:
Jacques Felix, who majored in sociology, will attend law school at Howard University.
Hailey Kerns, who majored in biology: biomedical sciences, was accepted into a microbiology and cell science doctoral program at the University of Florida.
Alissa Buckley, a double major in marketing and accounting and a student in the Honors Program, will begin working at Raymond James, a financial services firm, in its Saint Petersburg office as an associate, where she will pilot a new supervisor development program.
Karl Nyman, who majored in biology: biomedical sciences, was accepted to a cancer biology doctoral program at H. Lee Moffitt Cancer Center in Tampa.
Hannah Wiand, who majored in psychology: clinical counseling and religion, will pursue her master's in theology at Franciscan University in Steubenville, Ohio.
Katelan Sherouse, who earned her bachelor's in accounting, completed an internship with CliftonLarsonAllen in Lakeland, FL, and accepted a full-time position there. She plans to pursue her CPA certification and a Master of Accounting degree.
Louise Henningsson, who earned bachelor's degrees in economics and accounting, with a minor in international financial studies, will pursue a graduate degree at Boston University, where she will be enrolled in the Master of Science in Mathematical Finance & Financial Technology Program. During the summer, she will complete an internship with CliftonLarsonAllen in Tampa.
From Around the State, Country, and World
Saint Leo University's afternoon commencement exercises found more than 575 students receiving their degrees. Saint Leo WorldWide's online students and Florida education center students, along with graduate degree program students from the College of Education and Social Services, participated in the afternoon ceremony. The graduate students received doctoral degrees in criminal justice and education and master's degrees in education, emergency and disaster management, human services administration, instructional design, and social work.
At the beginning of the ceremony, President Senese acknowledged those who traveled from throughout the state, country, and the world. In addition, he asked for applause for the military, veterans, and first-responder students who make up the graduating class as well as their guests.
"We also want you to know how proud we are of you," Senese said. "We know well what you have accomplished, what you contributed, and what you sacrificed. Warren Buffett once said 'Price is what you pay. Value is what you get.' You paid the price, and you earned a valuable degree."
For many adult learners, graduating from Saint Leo University, means achieving their goal of receiving a degree. Dwayne Brown said he started his college career in 1988, but didn't focus on his studies, and did not graduate. Now in 2022, the Army veteran earned his bachelor's degree in sociology. He started studying at a Saint Leo location in Atlanta, and then completed his degree online. As for what's next, Brown said, "I know it's cliché, but I want to make the world a better place. Big change can come from small actions."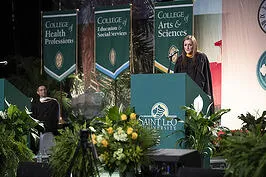 Iskra Sbraccia, alumna, trustee of Saint Leo, and president of the Alumni Association Board of Directors, led the new graduates in the turning of the tassels on their mortarboards and welcomed them as alumni. 
"As alumni of Saint Leo, we are the torchbearers of the institutional spirit," Sbraccia said. "We have grown in body, mind, and spirit and received many blessings from Saint Leo, so it is our responsibility to give back to the generations of students yet to come."