For the second year, Saint Leo University is collecting stuffed animals for use by the Tampa Police Department. As a holiday season project of Saint Leo's Tampa Education Center, Teddy Bears for TPD will provide cuddly critters for officers to carry in their vehicles in order to provide comfort to children in stressful situations.
In addition to the Tampa Education Center, the university community is helping with this effort and the Student Government Union, the Office of Greek Life and Community Service, and the East Pasco Education Center at the residential campus in Pasco County are assisting.
Donations of new and gently used teddy bears and other stuffed animals will be collected in donation boxes now through December 13. Saint Leo in partnering with the TPD to put together a "comfort squad" of stuffed animals. Officers will provide these furry friends to children at crime scenes, in times of crisis, trauma, and other scary situations.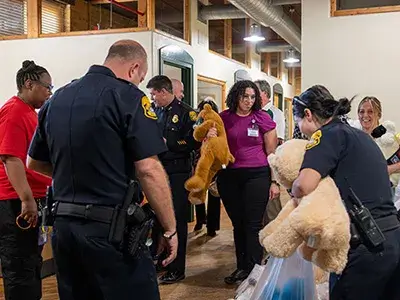 Last year, nearly 250 stuffed animals were donated by Saint Leo students, faculty, staff, and the public. 
This year, teddy bears and plush animals may be dropped off in donation boxes (look for the Teddy Bears for TPD signs) at the following:
● Tampa Education Center, 1403 N. Howard Ave., Tampa, FL 33607. Donations will be accepted 8 a.m. - 5 p.m., Monday through Friday.
● Dining Hall lobby in the Student Community Center at University Campus, 33701 County Road 52, St. Leo, FL 33574;
● Student Activities Building at University Campus;
● Saint Edward Hall lobby (East Pasco Education Center) at University Campus; and,
● Benedictine Hall lobby at University Campus.
 "We want interactions with the police to be positive for children, even if it's a scary situation," said Rod Kirkwood, director of Saint Leo University's Tampa Education Center. "These donations will allow the police officers to provide something soft for the children to hold during a hard or difficult time."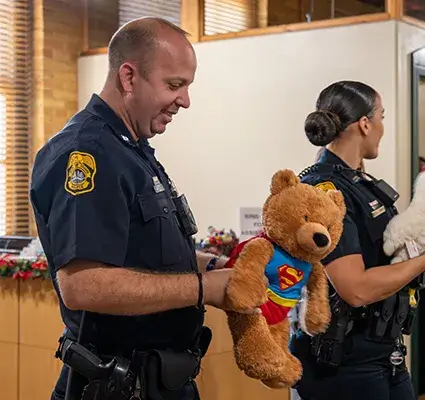 Studies show that cuddling a stuffed animal can release "feel good" chemicals in the brain, and help soothe children (and adults). Last year's donations went to TPD's Behavioral Health Unit along with the Major Crimes, Sex Crimes, and Domestic Violence units. "Children may not be a victim of a crime," said Tampa Police Assistant Chief Lee Bercaw, "but they may witness a parent having a mental health issue or other issues." And the teddy bears and other stuffed animals are comforting to the children being assisted by these TPD units. 
For more information, contact Rod Kirkwood at rod.kirkwood@saintleo.edu or (813) 226-2777.
To view a news story from the Tampa Beacon about this Saint Leo community service project:  https://www.tampabeacon.com/news/teddy-bear-collection-comforts-children-in-need/article_15c73b78-6cfa-11ed-9165-33e63c15e737.html