Bachelor's Degree in Elementary Education (grades K-6)
Why Earn Your Elementary Education Degree at Saint Leo University?
As a teacher, you play a significant role in a child's life. Earn your bachelor degree in Elementary Education, and become the next person to inspire and shape future generations.
Saint Leo's Education department has received national recognition for its comprehensive curriculum, extensive field experiences and values-based instruction. In 2011, the department was named a national finalist for the Distinguished Program in Teacher Education Award, presented by the Association of Teacher Educators. In 2014 the American Association of Colleges of Teacher Education recognized Saint Leo's Education Department for its "Innovative use of technology". And, according to a recent survey, between 92-98% of school principals who've had a Saint Leo grad and first-year teacher at their school report that they'd provide a positive recommendation for hiring. Another reason to choose Saint Leo- In the past 10 years more than 60 Saint Leo University graduates have become "Teachers of the Year" in their local schools and districts!
The major in elementary education is designed for students who plan to teach in elementary school (kindergarten through sixth grade) and to qualify for Florida teacher certification. Because this is a state-approved Teacher Education Program, Saint Leo graduates are assured Florida certification for grades K-6, including ESOL and Reading Endorsements.
Learning Experience:
Campus
Education Center
Online
Est. Time to Complete:
4 years
Undergraduate Elementary Education Program Details
Through a series of supervised internships, B.A. Elementary Education students accumulate more than 800 hours of clinical experience by the end of their senior year—almost double the hours recommended by the American Association of Colleges of Teacher Education. By the time you graduate, you'll be well equipped to command a classroom of your own as a certified K-6 teacher. Because of our emphasis on practical field experiences, principals often note how ready our students are for final internships. Please note that the Elementary Education program is only offered in Florida.
Learn Your Way: 
Online, On Campus, or Near You
What are the on-campus facilities like?

Students who pursue their degrees at Saint Leo's main campus near sunny Tampa Bay, Florida, join a community of enthusiastic learners just like them. 

Elementary Education students enjoy plenty of engaging learning opportunities both inside and outside the classroom, as well as exciting departmental events.
What are the benefits of earning your elementary education degree online?

Saint Leo University's online learning experience provides a well-rounded education with the flexibility to tailor your course of study to meet your individual needs. We know our students have lives outside school, and we seek to meet them where they are. Online students can count on receiving excellent academics as well as opportunities for hands-on learning.

Learn about the Online Experience

Taking online classes has afforded me the opportunity to learn while maintaining a job. They give me some flexibility to study at times that work more cohesively with my schedule and allow me to utilize resources such as the library 24 hours a day.

Bentley Streat | Hayes, VA
Are education centers near you offering elementary education degree programs?
You may also choose to pursue your degree through one of our education centers, which merge a traditional in-person education with the flexibility to match your lifestyle. Education centers offer eight-week academic terms as well as evening and weekend classes.
Specialization Options
Saint Leo University offers four specialization options for psychology students. You can customize your degree to match your passions by choosing one of the following concentrations.
Career Outlook
No matter which learning experience you choose, you will receive plenty of professional development opportunities, industry knowledge from expert professors, and support from the Saint Leo community. All this together means that you will be ready for a successful career or continued studies upon graduation.
How will you gain real experience?

Florida Teacher Certification

Saint Leo graduates qualify for Florida certification for grades K-6, including ESOL and Reading Endorsements.

Student teaching

Hone your skills through no less than four field placements, including a fulltime internship for one semester your senior year. A Saint Leo supervisor observes and coaches you throughout each placement.
Professional seminar
Prepare yourself for the job market. Create your resume, meet with school district representatives to learn about the application process, and participate in mock interviews with school principals and district administrators.
21st century classroom
Discover how to enhance learning with technologies such as iPads, the Mimio Teach and student response systems assessment system and interactive white Boards.
Conferences
Attend at least one professional conference before graduation, such as the Florida Reading Association or the Florida Council of Teachers of Math.
Co-curricular activities
Participate in the Future Teachers Association and become an active member of Kappa Delta Pi, the International Honor Society for Educators.
What can you do with an undergraduate elementary education degree?
All students who receive Saint Leo's bachelor degree in elementary education are certified to teach K-6 grades and also earn their ESOL and reading endorsements. Many Saint Leo graduates become leaders in their schools and districts often going on to pursue masters degrees in education leadership, reading or special education.
What are the top elementary education degree jobs?
| Career | Growth | Salary |
| --- | --- | --- |
| Kindergarten and Elementary School Teacher | 7% | $60,660 per year |
| Special Education Teacher | 8% | $61,500 per year |
From the Bureau of Labor Statistics, 2020.
Where are Saint Leo psychology graduates now? 
Our students find success as certified teachers in school districts around Florida and outside of the state, thanks to interstate agreements between the Florida Department of Education and many states. Most recently Marissa Savastano, at Sanders Memorial Elementary School in Pasco County, was recognized as her school's Teacher of the Year.
College of Education & Social Services
Saint Leo University's College of Education and Social Services couples a transformative liberal arts tradition with highly specialized training in the education and social services fields. Through close faculty mentorships, practical field internships, and applied learning experiences, we prepare students for careers in education, social work, criminal justice, and human services. Our faculty remain active in their respective fields as researchers and practitioners, giving students close access to a wealth of real-world knowledge and experience.

With the ever-changing needs of today's students, we provide flexible degree programs. These include programs at University Campus and education centers with evening and weekend options, as well as online offerings. These degree programs are grooming the next generation of educators and social service specialists—a new breed of professionals with the talent and resolve to make a difference in the world.
"Saint Leo's Creative Writing MA program helped me immensely as a reader and a writer. Learning to read not only what is in a story, but paying careful attention to how it's written, is just one of the memorable gifts I received from this program's helpful faculty and encouraging environment."

Janna Correa, (Fiction, 2022)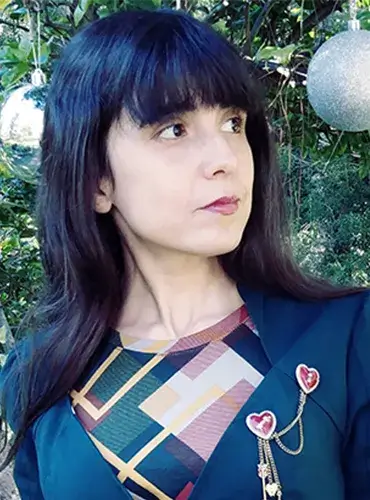 This program allows growth as a writer and as a person. The experience was absurdly personal. Absurd because of the organic evolution fostered by its leadership and absurd because of the personal touches from the instructors. Why expect that? St. Leo is invested in its students. You get more than you bargained for.

Jimmy Sutman, (Poetry, 2022)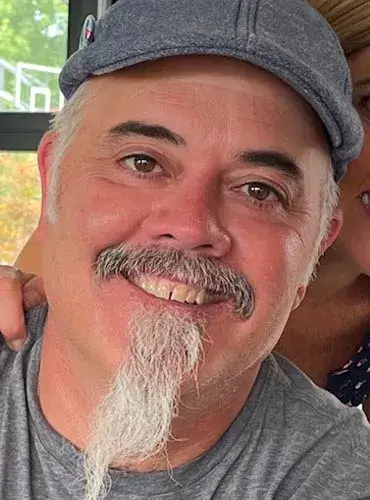 It can be intimidating to go back to school after decades of being in the workforce. But as a non-traditional student, I felt nothing but a warm welcome from Saint Leo faculty and my classmates. I started my first semester at another university and wasn't happy. I transferred to Saint Leo and learned more than I could have ever imagined in this program. Best decision I ever made. Thanks to my studies there, I'm getting ready to release my first book at the end of this year!

Lisa Moody, (Nonfiction, 2021)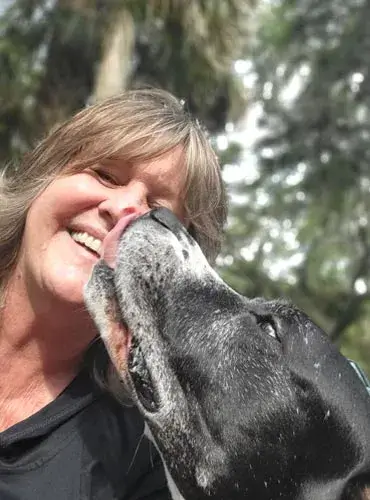 Being a part of the Creative Writing program at Saint Leo was the right choice for me, as it allowed me to pursue my degree from another state while also working a full-time job. I was still able to have the invaluable experience of connecting with a group of like-minded writers through the in-person residency, and I still maintain those relationships today. Through your coursework in this program, you will both read and write quality work and have constant support and encouragement from professors who really do care about your future as a writer.

Susan Abercrombie, (Nonfiction, 2021)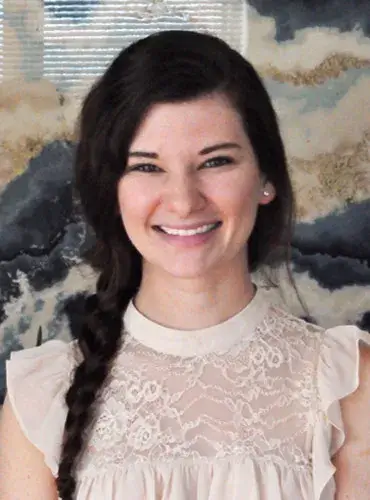 I enjoyed the close-knit literary community that Saint Leo University provided in the Creative Writing Nonfiction program. The instructors are a very experienced, passionate, and supportive group. I am a confident and better writer because of the workshops, the effective and inspiring feedback from faculty, and peer support.

Tisha Arther, (Nonfiction, 2022)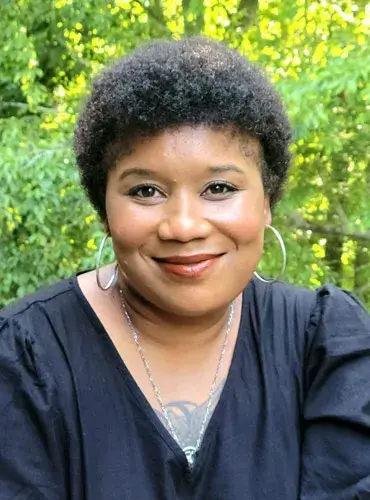 When I started the MA in Creative Writing at Saint Leo University, I didn't know what to expect and I didn't know if I would be able to fit into the program. After I left my first day of residency, I never questioned the absolute certainty that I had finally found where I belonged as a writer. The faculty were knowledgeable and encouraging, my peers were talented and welcoming, and the university offered an experience catered to my success. Participating in this program absolutely changed the trajectory of my life - as both a student and educator.

Danielle Knight, (Fiction, 2020)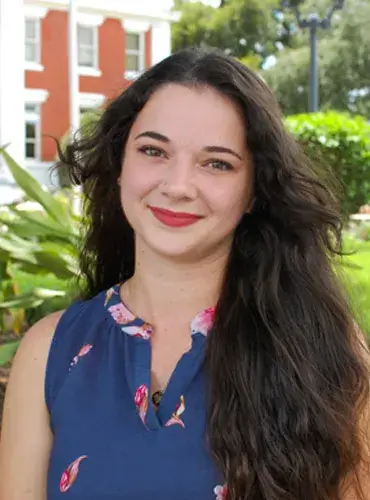 Accreditation
Saint Leo University is accredited by the Southern Association of Colleges and Schools Commission on Colleges to award associate, bachelor's, master's, specialist, and doctoral degrees.
Want to learn more?
Let's hear all about it! Contact Us
33701 County Road 52,
St. Leo, FL 33574
Toll Free: 8776222009
Campus: (352) 588-8200