Bachelor's Degree in Sociology
Why Earn Your Sociology Degree at Saint Leo University?
Enroll in the cutting-edge online sociology degree program at Saint Leo University. This sociology degree will help you pursue a career in business, government, social services and much more. Our online degree program also offers the flexibility needed to balance family and work life while also pursuing your studies at the same time.
Saint Leo's online sociology degree program explores issues that include globalization, race, gender, urbanization, and medical and environmental matters. Learn how to conduct research and analyze data, and search for answers to vital questions: How do we solve poverty and homelessness? How does public policy impact U.S. family life? How can state-sanctioned punishment reduce criminal deviance?
Other questions explored in our sociology degree program include: Why are some people poor and others rich? How do education levels, race, religion and class affect people's life choices? How are our actions in America related to what happens throughout the world? Sociologists study society and social behavior. They seek to understand the way groups think and interact. They think about problems in society and how to best provide solutions. As a Saint Leo online sociology student, you'll gain insights into social behavior and learn how to create change in your community and in the world around you.
Now is the time to enroll in our online sociology program, contact our team with any questions.
The online sociology degree program explores issues that include globalization, race, gender, urbanization, and medical and environmental matters.
Est. Time to Complete:
4 years
Undergraduate Sociology Program Details
The Bachelor of Arts in sociology prepares students for careers in business, government, or the nonprofit sector, and for a variety of graduate programs, as well as being part of a liberal arts education. A major in sociology is particularly suited to careers in human or public services, social research, the law, education, or religion.
Learn Your Way: 
Online, On Campus, or Near You
What are the on-campus facilities like?

Students who pursue their degrees at Saint Leo's main campus near sunny Tampa Bay, Florida, join a community of enthusiastic learners just like them. 

Sociology students enjoy plenty of engaging learning opportunities both inside and outside the classroom, as well as exciting departmental events.
What are the benefits of earning your sociology degree online?

Saint Leo University's online learning experience provides a well-rounded education with the flexibility to tailor your course of study to meet your individual needs. We know our students have lives outside school, and we seek to meet them where they are. Online students can count on receiving excellent academics as well as opportunities for hands-on learning.

Learn about the Online Experience

Taking online classes has afforded me the opportunity to learn while maintaining a job. They give me some flexibility to study at times that work more cohesively with my schedule and allow me to utilize resources such as the library 24 hours a day.

Bentley Streat | Hayes, VA
Are education centers near you offering sociology degree programs?
You may also choose to pursue your degree through one of our education centers, which merge a traditional in-person education with the flexibility to match your lifestyle. Education centers offer eight-week academic terms as well as evening and weekend classes. 
Specialization Options
Saint Leo University offers specialization options for sociology students. You can customize your degree to match your passions by choosing one of the following concentrations.
The specialization in clinical/applied sociology prepares students for a wide variety of client-based sociological positions, including support group facilitator, mitigation expert/mediator, organizational consultant, program evaluator, or community group advocate. Clinical/applied sociological training can often include an internship for hands-on career preparation, helping people and organizations by applying one's sociological imagination.
The specialization in diversity/inequality equips students with a heightened understanding of the causes and consequences of social inequalities, and with the high-demand ability to work with diverse populations. A diversity/inequality training in sociology prepares students for entering positions such as public relations specialist, human resources manager, case manager, program analyst, marketing/big data analyst, school counselor, military support specialist, or diversity trainer.
Career Outlook
No matter which learning experience you choose, you will receive plenty of professional development opportunities, industry knowledge from expert professors, and support from the Saint Leo community. All this together means that you will be ready for a successful career or continued studies upon graduation.
What skills you will learn?
Analytical skills,
Critical thinking,
Research methods,
Reporting/writing
How will you gain real experience?
Internships
Students have interned with hospice care providers, trial attorneys, circuit family court judges, migrant self-help organizations, Tampa AIDS Network and Saint Leo's Office of Institutional Research.
Conferences
Present your findings at sociology conferences in Florida and around the U.S.
Technology
Learn to use industry-standard analysis software, including Excel and SPSS.
Research
Conduct your own original research for credit, or assist professors with theirs. Gather information through market research, opinion polls, program evaluations and interviews.
Co-curricular activities
Interact with peers and professionals in the Sociology club and at the annual meeting of the Southern Sociological Association.
Service learning
Volunteer at Meals on Wheels or Habitat for Humanity through Saint Leo's bi-annual Community Service Day. Participate in an alternative spring break to a Costa Rican orphanage or an Alaskan national park. Lobby legislators in Tallahassee on the issues that impassion you.
What can you do with an undergraduate sociology degree?
A Sociology degree opens doors to careers in business, government, education, social services, marketing, law enforcement and international consulting.
Where are Saint Leo sociology graduates now? 
Our alumni are spread all over the world! You can find recent sociology grads continuing their education at renowned schools such as Hofstra University, William & Mary Law School, University of Southern Mississippi, Adler Institute, and New York University.
College of Arts & Sciences
Saint Leo's College of Arts & Sciences offers students a holistic education that lays a strong foundation for critical and independent thinking. The curriculum is designed to help students broaden their horizons and build valuable skills sought by employers. From biology to sociology, the College offers 17 high-quality and flexible programs on campus, online, and through our education centers.
I completely enjoyed my experience with sociology at Saint Leo University. Through my research project … classes I was able to explore … the view of Christianity and other religions in the sight of young adults. Because of this study, it made me more confident in my faith as well as sensitive to other religions. I took an internship with a Refugee resettlement agency, where I worked daily with clients that had many different beliefs and backgrounds. Within a few months I was hired full time as the employment specialist and stayed 3 years. To this day, many of my former clients still run and give me a hug and thank me for my kindness. I will continue to take my experience over to my new position as the Family Service Case Manager for the Community Action Program.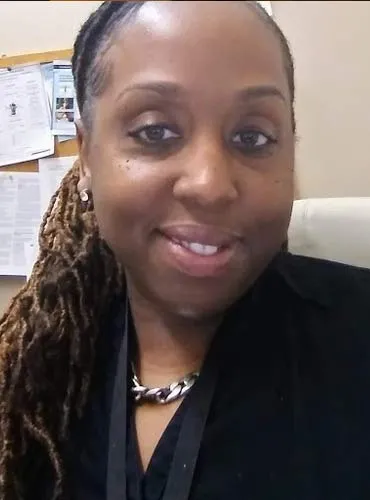 As a 46-year old male, the thought of going back to school was intimidating. Having an eight-year hiatus and trying to discover what I wanted to do was equally daunting. I have known that I wanted to help people most of my life. Sociology offered a path for me to achieve that goal. The staff at Saint Leo made the transition extremely easy. From the warm smile at the registrar's office to the insightfulness of everyone at the Sociology department, each person I met along the way made the journey of my education painless and enjoyable. The constant feedback, guidance, and care made me want to learn and excel. The best gift I received from my Saint Leo Sociology experience is the preparation for Social Work graduate school.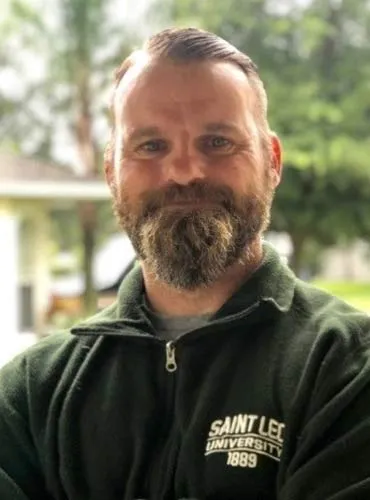 Choosing Sociology was the best thing I could have done. I served the first 15 years of my career as an Active Guard Reserve with the 283rd Combat Communications Squadron, Dobbins Air Reserve Base, Georgia. Seventeen years later, I earned my active duty retirement as a Senior Master Sergeant and as the State Awards and Decorations Monitor and Sexual Assault Victim's Advocate with the Georgia Air National Guard Headquarters. I enrolled in Saint Leo two months after retirement and chose to major in Sociology because I have always been interested in helping people and society. I am a member of Alpha Kappa Delta, the Sociology Honor Society and made the Dean's List every semester. Dr. Eric Williamson is my inspiration for applying for the Master of Theology program which I will start this Fall. When I complete that degree, I plan to go into counseling for veterans with disabilities and grief counseling.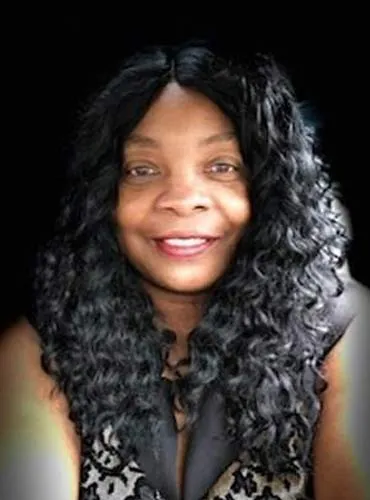 Saint Leo was a smaller and more intimate environment than many other institutions. That intimacy helped to reinforce the value of building relationships that has stayed with me and benefitted my career.

Davion Cooper, class of 2011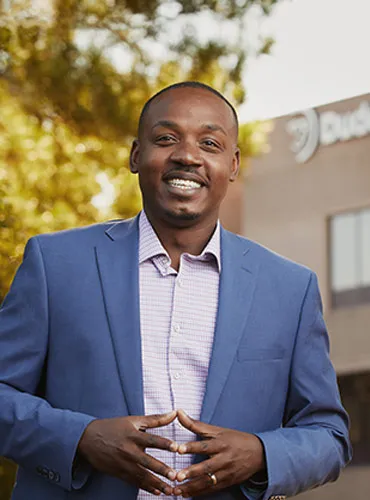 Accreditation
Saint Leo University is accredited by the Southern Association of Colleges and Schools Commission on Colleges to award associate, bachelor's, master's, specialist, and doctoral degrees.
Want to learn more?
Let's hear all about it! Contact Us
33701 County Road 52,
St. Leo, FL 33574
Toll Free: 8776222009
Campus: (352) 588-8200