Sydnee Daniels has been a cheerleader since the age of three. On the brink of attaining her medical humanities degree from Saint Leo University, she is jumping toward a career in sports medicine.
Sometimes called "Syd" by her friends, the 21-year-old was born in Auburndale, FL in the heart of the Sunshine State. She is the youngest of three with two older brothers, Dallas and Dalton. She proudly graduated 11th in her class from Auburndale High School in 2019 where she served as captain of the cheerleading team.
Finding the Right Fit for College
The main criteria for her college search involved finding a school that would allow her to continue her cheerleading career but also offer a degree program related to the medical field.
"I originally wanted to go out of state," Daniels explains. "I looked at another school in Georgia, but it just didn't quite feel like the right place for me. I was at the airport headed home from that school and somewhere saw something about Saint Leo University."
She took a campus tour, applied, and was accepted.
"When I toured the campus, I got the right feeling I was looking for," she says. "I felt comfortable, at home, and everyone was very welcoming. I like to say Saint Leo chose me in some ways. I'm so glad I trusted my gut."
A message from Haylee Monk, the head coach of the Saint Leo cheerleading team, was also encouraging to hear for her.
Selecting the Medical Humanities Degree Program
Daniels enrolled as a freshman in the fall of 2019, opting for the BA in medical humanities degree program. She explains what sold her on medical humanities with a health humanities concentration.
"I talked with my advisor, Dr. [Allyson] Marino and told her what I wanted to do with my interest in sports medicine and physical therapy. Psychology, humanities, and ethics are also of interest to me."
And what are the specific areas of focus in the medical humanities degree program curriculum?
"We study how athletes and people in general with injuries also have feelings and emotions behind the physical injury that they are dealing with and how this psychological component is often overlooked. I have loved this major. I'm excited about what I get to carry with me into the medical field."
Unforgettable Saint Leo Faculty
She raves about Dr. Marino, her advisor and a professor in the College of Arts and Sciences she has had for several classes. It was Marino who partnered with Dr. Cheryl Kozina to start the medical humanities degree program.
"Dr. Marino connects so well with her students," she says. "I can talk to her about school, my career goals, personal life, and anything else going on. She has been extremely helpful to me."
Dr. Timothy Jussaume, an associate professor of philosophy whose ethics class she took, has also made a memorable impact on her.
"He is awesome. His classes are super fun, and he is so supportive. I have to say all of my professors have been super helpful."
Her Experience Living in the Heart of University Campus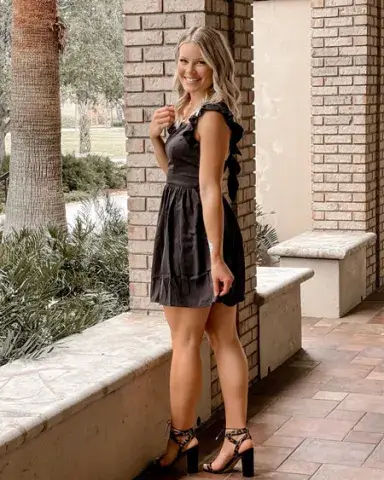 Daniels lived on campus for three years. She had different roommates each year, some of whom were from other states and countries.
"I became extremely close with every roommate I had," she says. "We are forever friends."
She adds that the resident assistants (Ras) made living on campus fun. Countless positive adjectives come to her mind to describe University Campus.
"It's very peaceful, cozy, homey, just like a home away from home. It is big enough to be involved in something but not too big where it is overwhelming."
Living in the residence halls allowed her to be very involved on campus. she worked for athletic communications. She also served as a student ambassador for admissions.
"I gave campus tours and made phone calls to prospective students who were considering Saint Leo," she says.
Plus, she served on the Student Athlete Advisory Committee (SAAC).
A Big Cheer for Her Cheerleading Career
Daniels cheered all three years she spent living on campus. She served as captain of the cheerleading team in her sophomore and junior years. Her specialties were in tumbling and the base and back spot. Because her college cheerleading career overlapped with the pandemic, she was thankful to be able to continue performing.
"We actually did virtual cheerleading during the early part of the pandemic. We had to record videos of ourselves cheering."
During her freshman year, she and her teammates competed in a national competition. They returned this past April for another national event held in Daytona Beach, FL.
"Every year, we were a family," she says. "It was a total sisterhood. We all developed relationships we will hold onto forever. You rely on each other and pick each other up."
She says this camaraderie is particularly important to cheerleading because the season runs from August when practice starts until April when nationals are held.
Navigating the COVID-19 Pandemic
The COVID-19 pandemic began at the end of her freshman year. Although she admits she and most other students struggled at times with social isolation, she is grateful for how connected she still felt.
"We would talk on Zoom and check in with each other, even if it wasn't in person at times. We all made the best of it."
During her sophomore year, she even bought all of the supplies to set up a biology lab of sorts in her bedroom.
"The professors adjusted and did their best to help us through this."
Notable Core Values
Personal development is the most meaningful Saint Leo core value to her.
"In college, I have been more challenged to get out of my comfort zone. Challenging myself to go the extra mile has helped me develop as an individual. I know that I have grown a lot as a student, athlete, and person in general."
Community is also a clear one for her.
"Among the students alone, you can't beat it. Everyone is so kind, welcoming, and enjoyable to be around. Going off to college can be overwhelming when you are away from home for the first time, so having such a supportive community around you every day is amazing."
These core values are a big reason she believes prospective students should seriously give Saint Leo University a second look in the midst of their college search.
"Look at what Saint Leo stands for through its mission and core values. Look at the experienced professors, the small classes, opportunities on campus, and the post-graduation opportunities. The school is amazing."
One of Many Awards for Her Wall
This spring, Daniels received the John I. Leonard General Excellence Award. This honor is given to a soon-to-be graduate who embodies the qualities of character, scholarship, service, leadership, and general excellence for which Saint Leo University stands. She explains what it meant to receive this honor.
"I was shocked to receive this award. It truly felt surreal. I am so honored to get it. I do try to work hard and take pride in what I do. I felt a sense of acknowledgement to be recognized for my accomplishments."
She also received a leadership award for cheerleading and was named to the LEAD Scholars program on campus.
With only a few more classes to go that she will take online, she plans to wrap up her medical humanities degree coursework in December.
Getting an Early Jump on Her Career
With an early interest in the medical field, Daniels previously worked at Lakeland Regional Health Medical Center as a newborn hearing screener where she earned experience in pediatrics. She recently started a job at Ultra cryo & Recovery, a family-owned business in Auburndale specializing in cryotherapy. This concept involves using low temperatures to treat various conditions that impact the body.
"I get to work with retired athletes and people of any age who are looking to recover physically," she says.
Her main professional goal is to work with high school or college athletes to assist them in overcoming injuries.
"I've always been involved in sports, so I know what an injury can do. I understand the importance of healing physically, but the mind and body are connected. This is why it is not always easy to mentally recover."
No matter where her career path leads, she hopes to always make a difference in the lives of others.
Photo credit: The photographs included in this blog article were provided by Sydnee Daniels and are used with permission.