Jack Prieto always has his game face on in every situation of life. He is a current senior in the Saint Leo University cybersecurity degree program, treasurer of a highly active fraternity chapter, and founder and captain of a new Saint Leo hockey club.
Known as either "Preet" or "Cap" to many, the 22-year-old grew up on the south side of Chicago. He graduated from Lincoln-Way Central High School in New Lenox, IL. The youngest of five, two of his sisters are also graduates of Saint Leo. Olivia earned a BS in biology with a biomedical and health sciences concentration In 2020, and Jenna graduated with her Doctor of Business Administration in 2022.
His Decision to Become a Saint Leo Lion
While he admits his sister, Olivia, had some influence on his decision to attend Saint Leo University, it was still mostly his own call to flock south for higher education.
"I wanted to go to college in the Sunshine State," Prieto says. "My sister, Olivia, played softball at the university and kind of inspired me to take a look at the campus. It felt like home and has honestly been a home away from home."
He moved to Florida and enrolled at Saint Leo in the fall of 2019.
Selecting the Saint Leo Cybersecurity Degree Program
He explains what intrigued him about the Saint Leo  cybersecurity undergraduate degree program.
"My dad and brother both work in the cybersecurity field," he says. "I knew Saint Leo offered smaller class sizes and lots of hands-on experience, so I thought it would be a great option."
The program has provided him with a wealth of knowledge and experience. Dr. Sang Jin Hong, an associate professor of information security, and Dr. Edward Santiago, a visiting assistant professor of computer science, are among several faculty members who have been a positive influence on him throughout his time as a student.
"The career advice from them has been huge," he says. "They have provided a quality education, they care about what you put into your classes, and they will be there to help you every step of the way."
A class on penetration testing was eye opening, he adds.
"It was very rewarding to see how computer systems operate as far as taking steps to conduct ethical hacking."
Discovering a Family on Campus with Sigma Alpha Epsilon
Prieto initially lived on campus during his first two years.
"It was a good experience living on campus and getting acclimated to the community to see everything it has to offer."
As a sophomore, he became involved in the Florida Alpha-Mu chapter of the Sigma Alpha Epsilon fraternity at Saint Leo.
"One of my close friends encouraged me to get involved," he recalls. "It felt like a family from the start."
He currently serves as treasurer of the chapter. He says this role has given him the chance to gain practical skills he would not have otherwise been able to attain.
"It is kind of out of my wheelhouse, so it's been a good learning experience and a good life skill to know how to manage money."
He is proud to say that this year, the Sigma Alpha Epsilon fraternity chapter recruited the highest increase in membership in the nation.
Like all Greek Life organizations on campus, the chapter gives back to the community in many ways. The group is currently involved in Shave SAE, a fundraiser for the Children's Miracle Network in which some of its members will shave their heads. He and his fraternity brothers have also lent a helping hand on freshmen move-in day.
"It's nice to help make new students feel at home when they arrive on campus. I want to give them insight into what type of university we are and everything we offer. It's been rewarding."
Through his participation in Sigma Alpha Epsilon, He has become good friends with Logan Burke, the current chapter president.
"Logan has been there for me personally and as a member of this organization," Prieto says. "As roommates, we have helped out each other through hard times and have cherished the good times together."
In addition to his Greek Life involvement, he works at the Wellness Center on campus and provides his services as a DJ at campus and athletic events.
Introducing Hockey to the Saint Leo Community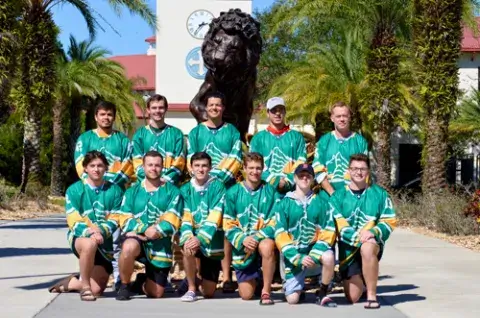 Growing up in the Windy City as a big fan of the Chicago Blackhawks, hockey has always been in his blood. He has seen a few new hockey clubs pop up at universities in the central Florida region over the past few years.
"I know lots of kids from up north who have come to Saint Leo and played hockey growing up," he says. "I wanted to develop our own club here."
He decided to bring the idea to Dr. Randall Woodard, the faculty advisor for the Sigma Alpha Epsilon chapter, to gauge his interest in supporting such a project.
"He was so supportive from the beginning," he says of Woodard. "He has been there every step of the way in helping me make a dream come to life. We are so proud that this club has given our community members something new to get excited about and support."
According to Woodard, Prieto was a perfect fit to lead such an effort.
"When Jack reached out to me to see if I would help start the team and serve as advisor, I knew he would make it happen," Woodard shares. "The time Jack has poured into this team and his leadership have been exemplary of a Saint Leo University student. He saw something that would benefit students and staff here, and he made it happen through his hard work."
The team is comprised of about 15 individuals, most of whom are students. Woodard serves as the team's faculty advisor, and staff member Kevin Floyd also competes as a player. The team is open to male and female students, faculty, and staff.
"It's a really diverse group," Prieto explains. "Among the students, we have freshmen through seniors, a variety of majors, and three different fraternities represented."
The team has been playing its games at the Lakeland Ice Arena. Its opponents have included several of the top semiprofessional adult recreational clubs in the area. Its inaugural game was held on Sept. 11, 2022, and the season runs through the spring. The team's current record is right around the .500 mark.
The club's goal is to schedule some exhibition games against other colleges and universities around the state. This will help in its efforts to join a formal college hockey league, such as the Collegiate Hockey Federation.
Prieto admits that assembling a hockey team has had its challenges. However, he is extremely grateful to see the hard work pay off during his senior year.
"The first time I scored a goal, people were smiling and screaming at me," he recalls. "In that moment, it was worth all the years in the making. It's been a dream that has truly come true."
Two Notable Saint Leo University Core Values
For him, the Saint Leo University core values of community and integrity have been most prominent in his college career, particularly when it comes to the hockey club.
"The entire university is 1 big family," he says. "Like with this hockey club, when you create something new, people will rally around it. With integrity, we are holding ourselves to a high level of accountability. We want to grow this sport the right way, and we are committed to that."
Cybersecurity Career Considerations
According to Prieto, he has greatly benefited from the Saint Leo cybersecurity degree program. In terms of hands-on experience, he completed an internship with his dad's company, dotQ4. He shares his vision for a career in this field.
"I would love to work for a large company," he says. "My goal is to be a cybersecurity analyst. I appreciate the innovative aspects of cybersecurity and getting the opportunity to create technologies that will positively impact people and organizations in the future."
Photo credit: The photographs included in this blog article were provided by Jack Prieto and are used with permission.