Saint Leo University's Honors Program grew this academic year with 143 new students enrolling. Not only did the university welcome more Honors students, but it also welcomed some of the best and brightest, who boasted an average unweighted GPA of 3.72.
And at Saint Leo, students find that the Honors Program is about more than just academic rigor. "Our curriculum is based on the theme of global citizenship," said Dr. Tim Jussaume,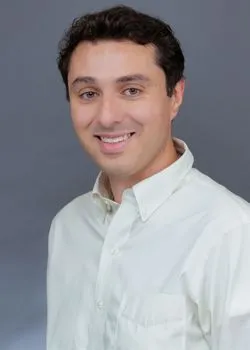 director of the Honors Program and associate professor of philosophy. "This is the idea that we are all part of one global community and are morally responsible for each other."
While being an Honors student may sound like additional studies, "it's not more work, but rather a different kind of work," Jussaume said. The program offers an upgraded undergraduate experience with more depth of conversation and engagement, he added. Honors Program students are part of an academic community and get to work one-on-one with faculty members on research.
"They're challenged to tackle the most important questions facing our world today," Jussaume noted.
Every semester, the courses change topics. In Fall Semester 2022, the courses included:
● First-Year Seminar I: Wild Florida, which was team-taught with faculty from the departments of philosophy, biology, and English. The course examined the historical, environmental, social, and cultural forces that have shaped the Florida of today. "Ultimately, we hope to answer the question: 'What does it mean to live in Florida?'," Jussaume said.
● Graphic Novels and Film, which focused on how graphic novels offer a unique way of presenting "big ideas."
● Storying Disney, which examined how The Walt Disney Co. uses the power of narrative and includes a trip to Disney World;
● Social Issues in Pop Culture, provided a look at how TV, social media, and film represent challenging social issues;
● Writing the Anthropocene, examined how are creative writers addressing the challenges of climate change;
● The Psychological World of Disney took a look at how Disney portrays various psychological concepts in its films. What perspective on mental health is it seeking to offer? This course also includes a Disney World trip.
● For the Good of the Community, a service-learning class that explored the role of community service in living a good life. Students were required to engage in community service in this class.
● Good Business: Social Impact through Entrepreneurship in which students learned how businesses can be profitable and help the common good.
"In this course, students were empowered to create social change through entrepreneurship," said Dr. Helen MacLennan, associate professor of management in the Tapia College of Business.
Honors Program students in the Good Business course worked together in teams to identify, evaluate, and form a social venture, MacLennan said. "Students will develop a business model, create a business plan for their proposed product or service, and pitch their ideas," she added.
Students in this course received "real world" experience by participating in the Social Impact Roundtable hosted by Dr. Mark Gesner, vice president of Community Engagement & Communications, and a "Pitch on Purpose" session on October 9, also facilitated by Gesner.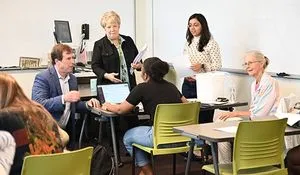 The session allowed the students to hear five entrepreneurs pitch their socially responsible products and services.
Honors Program students established criteria to assess the products and determine which ones would be best suited for the initial business line of the Saint Leo Social Venture Shop, now in the development phase. Once live, the vision for the shop is to feature a variety of products and services that have a social impact.
Incentives for Honors Students
In addition to working with faculty members on research and more in-depth study, Honors Program students receive upgraded housing in Alumni Hall. In addition, there were $2,000 scholarships available for students in 2022, and free, one-year master's degree enrollment.
What also makes Saint Leo's Honors Program special is the global citizenship curriculum, which offers a variety of courses that are team-taught by multiple faculty. "This is a unique experience unavailable at most universities," Jussaume said. "Our courses are truly interdisciplinary because they are led by faculty from multiple disciplines in conversation with each other. Students get access to smaller class sizes and work closely with faculty both in class and on research outside of class."
For more information about Saint Leo University's Honors Program, email timothy.jussaume@saintleo.edu. For further information and application forms, contact the Honors Program by email at Honors@saintleo.edu or apply online here.
Admissions information also is available at (800) 334-5532 or go online here.