With a long history of educating the country's military personnel, veterans, and their families, Saint Leo University is claiming top honors from the 2022 Military Times Best for Vets: Colleges. Saint Leo earned rankings of No. 24 among all schools in the United States, No. 3 among online schools, No. 5 among private schools, and No. 7 among schools in the Southeast.
More than one-quarter of Saint Leo's student population is affiliated with the military, and this includes members of the U.S. Air Force, Army, Navy, Marines, and Coast Guard, National Guard members, retired military officers and enlisted veterans, military spouses, dependents, and others.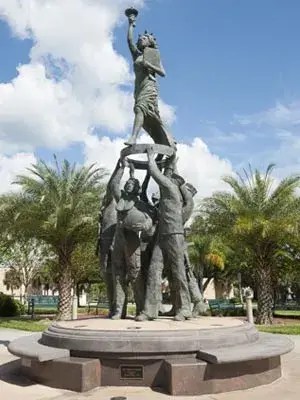 This year's Military Times Best for Vets: Colleges survey included more than 300 schools that answered more than 70 questions on services and programs specific to military-affiliated students. "Student success metrics (completion, retention, persistence, and GPA) are the most important factor in determining the relative ranking of schools on this year's list, followed closely by the range of military-specific resources and the level of financial assistance they offer," the methodology for the rankings states.
"Helping student-veterans figure out what's next in their lives after they leave the military is crucial to their success, and Saint Leo University takes pride in assisting them on their educational journey," said Dr. Ed Dadez, university president. "We are so proud to be recognized for the university's contributions in supporting the men and women who have served our country. Saint Leo provides a home base for our student-veterans, and the faculty, staff, and their fellow students welcome them and their families."
In addition to its residential campus in St. Leo, FL, north of Tampa, students are educated at 16 teaching locations in five states, including many located on military bases, and through the university's Center for Online Learning. Saint Leo also offers Military Resource Centers located at University Campus and the Tampa (FL) and Savannah (GA) education centers.
"We are very happy with our ranking in Military Times this year," said Dr. Larry Braue, director of Saint Leo's Office of Military Affairs and Services and a retired U.S. Army lieutenant colonel. "I am proud to serve those students who served our great nation. As we begin our 50th anniversary of educating our military members, our plan is to continue to build on our current successes and make Saint Leo University the best university in the nation for our well deserving veterans."
Historically, Saint Leo University served veterans and military personnel during the post-Vietnam era when many college campuses removed anything military-related. In 1973, the then-Saint Leo College began an extension program by opening education centers for military students at Avon Park Bombing Range and MacDill Air Force Base in Florida. This strong history gives Saint Leo experience in assisting the military and veterans, the director said.
Programs for Students
Braue noted that among programming for students, Saint Leo created a networking series, "Conversations about Success Beyond Service," that is designed to provide student-veterans, servicemembers, and military-connected students the opportunity to find resources, make connections, and discuss topics important to their personal and professional development. "Students are invited to join us from wherever they are to build camaraderie within the Saint Leo community," he said.
"In addition, we have established relationships with campus partners that will enhance personal and professional development for our students. We now have a growing Student Veterans of America [SVA] chapter that is developing events that connect veterans with the local community for employment and community service projects. And we're just getting started."
Saint Leo University also assists student-veterans through targeted funding such as the Veteran Student Emergency Fund, which provides emergency financial assistance for veterans. This program is unique in higher education and ensures that veterans can continue their education even when real-life crises occur. Donations may be made to Military Education Excellence.
Veteran Studies Degree
In 2021, Saint Leo created the first undergraduate degree in the United States devoted to veteran studies. A veteran studies minor also is available in this emerging field.
Students in the program study the distinctive lives and cultures formed by military service and by retirement from service—a part of American culture that is often not understood. The degree program is open to all students, not only those who have a military background.
More information about the rankings may be found at https://colleges.militarytimes.com/.